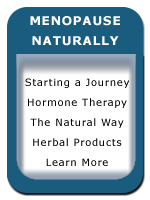 Traditional Chinese Medicine believes that everyone is born with the ability to self-heal.

Embrace the unique and magnificent transition of menopause and take the time to learn how to care for yourself today so that all your tomorrows are filled with good health, not with debilitating conditions like heart disease, osteoporosis, breast cancer, or other health-robbing problems.


Many women approach this time in their lives with fear, anxiety and anger. There are so many factors responsible for this: there's the worry about heart disease, breast cancer, and osteoporosis. There's also the fear of growing old and possibly useless or incapacitated, and so many more negative thoughts that it's understandable that women have a difficult time maintaining a positive outlook through this transition. Hope, peacefulness and confidence in your own healing ability (an amazing gift that you were born with!) can help you make profound changes in your life.
But, the truth is, as you enter menopause, you are about to be immersed in an inner sea-change of far-reaching spiritual, emotional and physical consequences. Are you going to let fear prevent you from flourishing? Or, are you going to embrace this opportunity and open a door to a whole new life – one that is healthy and sustainable over the wonderfully interesting time you have allotted to you.
Think about the millions upon millions of women who have lived long lives without hormone replacement therapy. How did they do this? Surely not everyone of them suffered from debilitating symptoms. And, surely, it would not make sense, according to the natural law, to have an organism like the human body born without all the innate information and materials necessary for it to survive without outside drug intervention.
Testimonial

"When I first started to get menopausal symptoms, I simply ignored them. As they got worse I went to my doctor who suggested I try hormone replacement therapy. I had known other women who were on it, but I was a little reluctant. I held off and started to look around. I tried a few alternative and natural products, but none really helped. As I was about to start my HRT treatment I came across your herbs and the book you recommend. This whole new approach to menopause was exactly what I was looking for. Now after two months my symptoms are almost all gone. I am feeling better, have more energy and no longer feel old. It has completely changed the way I look at my body and life. Thank you so much."

Kathleen - NY